Total knee replacement (TKR) surgery is performed in order to reduce the amount of pain an individual suffers from.  Common causes for a TKR are osteoarthritis and severe damage to the knee joint. A TKR is the last option for individuals suffering from those conditions ("Total knee replacement – Mater Patient Information", 2019).  Typically, prior to the surgery, medical professionals manage pain levels and symptoms with medications and walking supports.  By managing without surgery, it is the hope that a TKR can be postponed as long as possible. 
How can this be done?  Exercise can naturally reduce the amount of pain experienced through the joint by strengthening the surrounding muscles. 
These days, we find that prehabilitation is becoming a more important phase in the overall recovery for a TKR.  During that time, specialists and Exercise Physiologists (AEPs), attempt to help improve the individual's functional capacity and lower extremity strength around not just the affected knee joint but also the contralateral joint.  It is the aim that by completing as much prehabilitation that the rehabilitation post-surgery becomes slightly more easy in terms of strength through the joint due to the inactivity associated within the first couple of days (Ditmyer, Topp & Pifer, 2002). 
Overall, there are 4 steps to a TKR surgery ("Total knee replacement – Mater Patient Information", 2019):
Preparing the bone: the affected bone has it's damaged cartilage removed as well as a thin layer of bone.
Position of metal implants: the removed cartilage is replaced by thin metal pieces that are hammered into the bone and mould over the bone.
Resurface of the patella: the under-surface of the patella is cut and resurfaced with a cement like substance.
Insertion of a spacer: a spacer is inserted between the metal components to act as new cartilage so the joint is able to move smoothly.
Once the surgery has taken place, the rehabilitation occurs, generally the same day.  A physiotherapist will come in to assist an individual while in hospital to begin a light range of movement program to get them moving.  The first 4 weeks of recovery are vital!  This is where an individual will be able to achieve the most amount of range of movement which has been known to determine future ability of the knee.  After 8 weeks,  the physio exercises become more advanced and the therapy can be taken over by an AEP. 
According to many medical experts, rehabilitation for TKRs should look similar to the below table (MacGroarty, 2019, "Total Knee Replacement Exercise Guide – OrthoInfo – AAOS", 2019) is: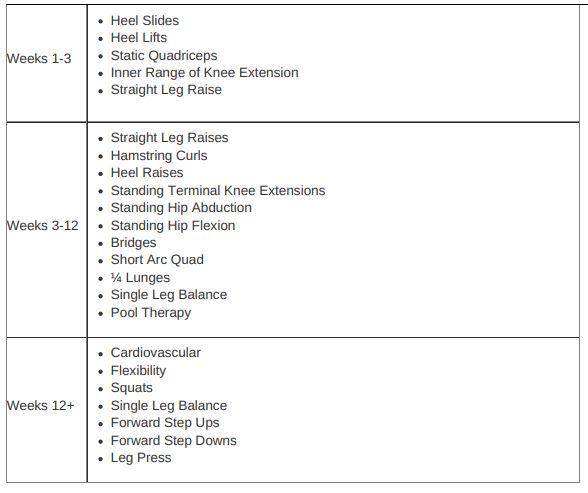 References

Ditmyer, M., Topp, R., & Pifer, M. (2002). Prehabilitation in Preparation for Orthopaedic Surgery. Orthopaedic Nursing, 21(5), 43-54. doi: 10.1097/00006416-200209000-00008

MacGroarty, D. (2019). Retrieved from http://kneeandshoulderclinic.com.au/wp-content/uploads/TKR.pdf

Total knee replacement – Mater Patient Information. (2019). Retrieved from http://brochures.mater.org.au/brochures/mater-hospital-brisbane/total-knee-replacement

Total Knee Replacement Exercise Guide – OrthoInfo – AAOS. (2019). Retrieved from https://orthoinfo.aaos.org/en/recovery/total-knee-replacement-exercise-guide/